Rhea and Abhishek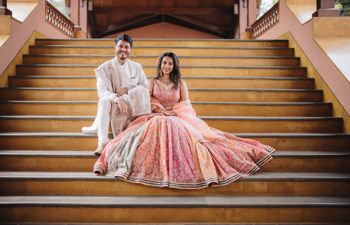 Working with Divya and Vithika was an absolute pleasure from start to finish. They brought our wedding vision to life and exceeded our expectations in every way possible. From the stunning Hawaiian themed night to the glamorous Great Gatsby themed Sangeeth, the decor was simply breathtaking. Our guests couldn't stop raving about how beautiful everything looked, and it was all thanks to the hard work and attention to detail by Divya and Vithika. They went above and beyond to make sure everything was perfect, and we couldn't be more grateful. Thank you both for making our daughter's special day so magical!
Chitra Padival (the bride's mother).
Chakra and Soumya
Divya & Vithika were the real stars of the show. We wanted everything floral and a mix of both modern and traditional decor. The team sent us mood-boards and vision charts to select themes for the wedding. We worked with them to identify the vegan dishes to be served during the ceremony, they coordinated our logistics, and the entire Taj Madikeri events. It rained profusely on the day before the wedding and their team were up from 10pm till 5am on the day of the wedding, working through a literal storm to set up the mandap and set up the flower arrangements.
Chakra Sai (the groom).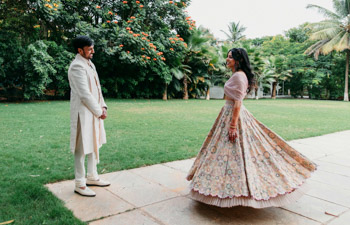 Planning a wedding is not easy but planning a destination wedding during Covid is even harder. Divya & Vithika were not only easy to work with, they made the entire process of planning and execution an enjoyable and joyous experience for us. They understood the vibe and mood we had in mind and executed it so beautifully. We did not have to lift a finger the entire time as everything was taken care of even before we walked into the venue. Their team was punctual and efficient in having everything in place.
Thank you Divya & Vithika for planning out our daughter's wedding so beautifully! Radhika (the bride's mother).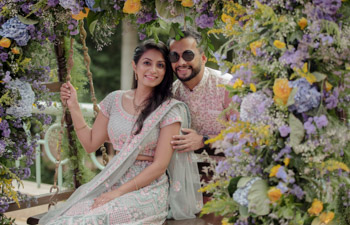 Joseph and Shincy
Planning a wedding can be stressful on its own, but planning a wedding in India, in the middle of a pandemic, with me in the US and Joseph in the UK, felt near impossible. Cue Divya at Divya Vithika Wedding Planners! I really don't think we could have pulled all of this off without her and her team. Even though we held countless 3-way video calls discussing every detail, I was still nervous about how everything would be in person. But once I landed in Bangalore, I could see that Divya Vithika Wedding Planners had taken my abstract ideas and turned them into a beautiful reality. Totally accessible and available to us they went out of their way to make sure everything was to our standards. Every vendor we used was through their recommendation and they were all a great fit. Shincy, the Bride.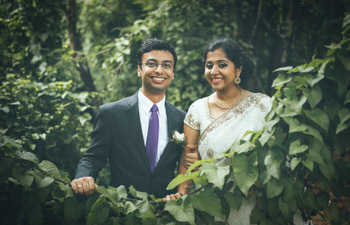 The year running up to our daughter Amita's wedding is one that Jacob and I look back on with much fondness and happiness. It was a time of excited and meticulous planning for the biggest occasion in our lives – we were hosting Amita and Abhinav's wedding! That's when we met up with Vithika and Divya to help us do it. This duo increasingly became part of our family over the year of planning. Their warmth and charm are matched only by their incredible abilities and skills in event management. They were able to get on to our wave length immediately, to understand our needs, wishes and vision, and to pay the kind of meticulous attention to detail that we wanted for each aspect of the wedding preparation and its events. And they delivered on every count! The beautiful wedding invitations and booklets for the order of service for the blessing ceremony (to name a few highlights before the start of the actual celebrations), the photos and videos of all the events, and the memories created for everyone who was part of our celebrations are clear testimonies to this fact. Jacob and I expected to feel (and look) harassed during the wedding events, considering we were responsible for hosting the largest social events of our lives! But in all the photographs and videos of the events, it was not just the bride and groom who were smiling all the time and looking relaxed, Jacob and I were too, much to our surprise! We attribute this to Team Vithika and Divya. To them goes the credit for us being able to enjoy Amita and Abhinav's wedding celebrations in Vellore, while being confident that they were looking after everything to ensure that events were proceeding with the elegance and style we had envisioned. They truly were a reassuring presence in our extended family. Vithika and Divya, you two have truly been special to us and continue to be so. Thank you for the tremendous effort you and your team put into making Amita and Abhinav's wedding celebrations in Vellore the spectacular success that they were. Molly and Jacob, parents of Amita.
As soon as we got engaged Jon and I started looking into wedding planners. Planning a wedding from across the world, even if it was a year away, would be far from easy. A close friend who faced a similar situation recommended Divya and Vithika and when I met Divya to discuss the plan I knew we had found a kindred soul that just got me. From then on Divya, Vithika and I started months of long distance calls, e-mails and messages planning every little detail, and we never questioned any of their ideas- they asked for a theme, a color, a muse and presented us with a design that surpassed any of my expectations. When it came time for the wedding week they were so hands on that Jon and I did not have to worry about last minute work and their delivery was impeccable! We were in awe of every piece of decor, every placement and every light and knew that, as important as this day was for us, they honored that and made it more memorable than we could have imagined. Thank you Divya and Vithika and your incredible team for all the work, late nights, e-mails, phone calls and running around you did with me. We are eternally grateful and blessed to have you both as part of our bridal team and will forever look back on that time and thank you for everything you have done.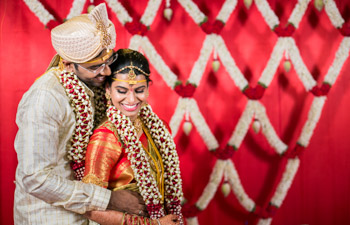 "A DREAM WEDDING" where everything was PERFECTION! DivyaVithika and the entire team made sure of that by taking care of every little detail leaving us and our families to only relax and enjoy our beautiful wedding.
They are very professional yet so personal. All the meetings with Divya, Vithika and their team were so much fun and extremely helpful where we could discuss all minute details beforehand making things much easier while you get all set for the Big Day. Everything was much more gorgeous than what was discussed and planned. Their team makes you and your guests feel so special that each one still compliments us about our wonderful wedding. A big thank you to Divya, Vithika and the entire crew who were very friendly enthusiastic, and taking care of the entire wedding and made our dream wedding come true. Vinootha, the Bride.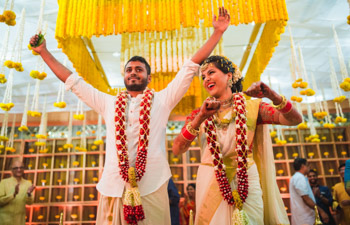 If you are looking for a team that can handle the pressure and execute in a timely manner, I recommend Divya and Vithika. My family and I worked closely with Vithika and her team to ensure that our vision turned into reality, and we are truly grateful. Ishika, the Bride.
.
.
.
Thank you for first meeting me without any agenda and telling me exactly how to deal and what to expect when hiring a planner for the wedding. I wanted to highlight a few points where you as wedding planners really stood out. The both of you were absolutely professional right from the word go from the very first meeting to the last. You both were always there every single time we had requested for a meeting and you kept your calm explaining things over and over again to my parents, sisters, and other family members. The two of you never once showed a lack of patience or lost your cool. Both of you had a calm demeanor that always helped and made things easier.  Your team always  kept us in the loop and shared all the details with us and made sure you took our opinions be it from the goody bag to a letter that was sent out to the guests. We realize that there was a number of last minute requests from packing halwa tins, to decorating pathways, boats and just organizing a whole new welcome set up at another hotel, each of which you took in your stride and you never said that it would not be possible.  You sent us videos and pictures in advance so that we would have the right picture in our head… but in the end it was even more beautiful than we ever imagined! We noticed and were touched by the fact that you were there on site till the absolute end of the celebrations. This was noticed not only by family but also a lot of our guests. That kind of dedication is something else altogether and we as a family truly appreciated that. I cannot say enough about the absolutely beautiful  setup, flowers the choice of entertainment and the gorgeous setting that your team created for us, it was absolutely outstanding at every level.  We did not exactly have the moving crowd that we had planned for and this was purely because everyone was enjoying the beauty of everything and the wonderful music! All in all it was an absolutely wonderful experience and I am so glad that it was the both of you did this for us. My brother's wedding was an event all of us were looking forward to for many years and it was a wedding in our family after ten years. It was the Divya Vithika team who made this absolutely magical and beautiful! A big big thank you! On behalf of my entire family, thank you Divya Vithika! Fathima, Mohiuddin's sister.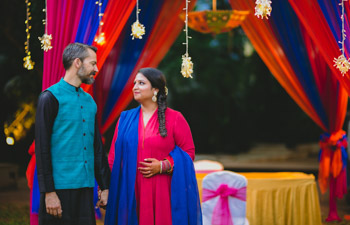 Since we were planning most of our wedding in Bangalore from afar, we wanted wedding planners that were reliable and that we could trust. We heard about Divya Vithika Wedding Planners through both searching online and through word of mouth and the praise was high. I can attest that they planned our wedding flawlessly and made it a day that we'll never forget! Everything from ensuring that the decor looked great, to managing all of our vendors effectively and efficiently their attention to detail was superb. As a nervous bride, they took the time to make sure I felt comfortable and happy throughout even when bad weather threatened to ruin our festivities they made sure to take care of the problems that arose as swiftly as they could. I would definitely work with them again and highly recommend them to anyone who is on the search for impeccable planners!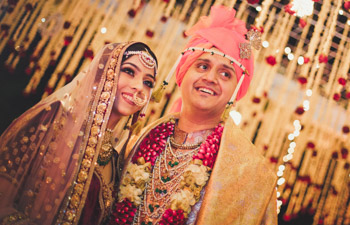 When I was scouting for the right wedding planner for my daughter Krutika's wedding after researching a lot of different companies I chose to go with Divya Vithika Wedding Planners because I felt confident of their work. I liked their approach, how they always had time and were always available even when I requested last minute meetings. They looked into each and every aspect of the wedding in great detail which gave me the freedom to focus on my guests. I would like to make a special mention of their logistics and guest hospitality capabilities. We had 650 guests flying in from all parts of the world and at all times of day and night. They made sure every pick up, drop off and the travel between venues was seamlessly coordinated. Every guest felt personally taken care of. At every event they did not leave until the last guest was safely back in their room and it was only after making sure that the last guest had left did they consider my work completed. They were always around to help and yet we never found their presence intrusive. There were many a times they would have been completely justified in reaching out to me with hiccups cropping up but somehow they solved most of the issues themselves. I found them professional, dependable and knowledgeable. I am glad that we will not have to scout for another wedding planner the next time. Ambika Ghorpade, Krutika's mother.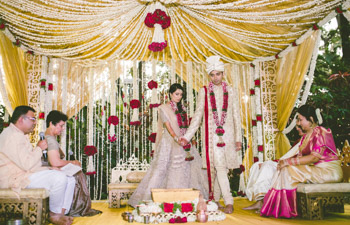 Now that the euphoria of the Wedding has settled, I would like to take this opportunity to share my experiences of working with Team Divya Vithika. When I spoke to Vithika and met Divya for the first time, I knew they were the ones who would give Nema and Vishal the dream wedding I had in mind for them. We started working on this exceptionally unique, multicultural wedding planning only in August for the Wedding in December. With not much time and five main events to organize, Haldi, Mehendi, Sangeet, Wedding and Reception. Team Divya Vithika had an insurmountable task on hand. With coordinating every little detail with Nema and Vishal who live in the US and me bombarding them with umpteen details, stretching to near perfection, they were able to pull off the show with much finesse and class. This cross cultural wedding which was meant to give our guests especially ones who had traveled across continents an unforgettable experience of a colorful Indian wedding more than achieved that with diligent planning and execution of the festivities by the efficient, friendly and extremely professional Team Divya Vithika. I can further say our meetings when we were planning the wedding were fun and I now have a new set of friends in them. From selecting beautiful surreal floral decorators, to aesthetic photographers, elegant designing, make up artists, DJ's, everything was handled by them to meticulous precision which let the family participate and enjoy the festivities. Even today when we talk to family or friends the first thing they say is "What a Wedding!!". Thank you Team Divya Vithika for making this possible, going beyond our expectations and giving us a wedding to remember! Renuka Rao, Nema's Mother.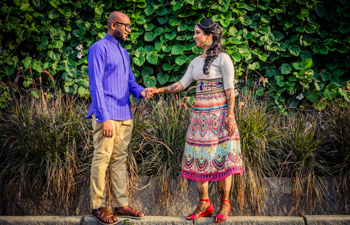 We couldn't be happier to have worked with Divya and Vithika. With 3 weeks until the wedding, we met them for the first time and we knew from that moment why they were the best planners in Bangalore. Organized, creative and professional are just a few of many adjectives that come to mind. They worked with us to ensure all our crazy ideas could be implemented and properly executed. Having all our events at the same location led to such a tight timeline but Divya and Vithika were calm throughout and their work spoke for themselves. Each day was more gorgeous than the last and a true visual experience for all our guests. More than planners, they were very soulful people. They were always available, day or night, to address our concerns, worries, or even mini bridal freak-outs. Their hard work and incredible work ethic made our 3 day wedding become the gorgeous affair that our family and guests still talk about and the fairy-tale wedding we had always envisioned.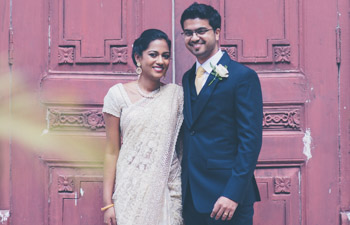 My daughter wanted a very simple, intimate wedding. The brides' diktat: no frills, no extravagance, no wastage. My husband and I wanted each of our guests to have a wonderful time and be looked after personally. Something understated, something folksy, something colourful, some hometown touches, something Tamil-Christian, something Maharashtrian-Hindu' – could well have been the guiding principal of the wedding. We wanted every element to have some significance for either the couple or for us – whether it was the music, the décor, the wedding invite or the flavor of the cake.  And yes, we had a budget in mind too! A tall ask, but when I met Divya and Vithika, I knew it was going to be possible to pull it off. Divya and Vithika have an instinctive understanding of what I wanted and was very mindful of each of our diverse requirements, especially the bride's. I only had to mention a few of our ideas and they would bring many more to the table – each one very creative, very out-of-the box and yet in sync with our vision. On some occasions, they encouraged us to think a little differently, and that was great too.  They also put us in touch with a talented and professional bunch of photographers, videographers, DJ, and make-up artists who made the wedding special. They guided us through the venue choice, food tasting, décor planning and finally drew up detailed event flow spreadsheets that encompassed pick-ups, drops, and every special request.   During the events too, they stepped in whenever they felt something needed a little tweak or a little more attention. Thanks to their meticulous detailing and superbly efficient team, we were relaxed and had a blast over the two days and our guests felt cared for. The best validation came when both Kavita and Aditya told us that they had a great time too and had thoroughly enjoyed their own wedding! Thank you Divya, Vithika, you guys are a bunch of honest and genuine professionals and deliver on what you promised, Asha Nehemiah, Mother of the Bride.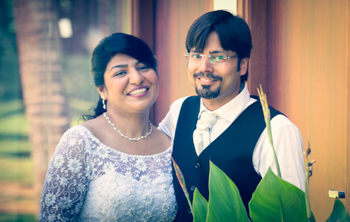 A fairytale wedding is what Divya Vithika and their wonderful team brought together for my sister's marriage. Words are not enough to thank them for their patience, grace, good judgment and excellent planning. From the moment we met them, we connected and bonded so well. This dynamic duo did the most wonderful and incredible job of putting together a day that my family and I would never have thought of. So beautifully and magnificently was the venue decorated, just perfect for a prince and princess to be married. Their entire team took care of the smallest of the details and executed the wedding so well. All the arrangements, whether it be the decorations, music, photograph, food etc. was absolutely WOW. In fact they suggested that the bride should see the entire venue in all its glory at the time of the wedding itself and not before that, and believe me the look in my sister's eyes was priceless!!! They made the 6 months of preparations working alongside these 2 wonderful people and their team a complete success. Truly Divya and Vithika, you made an impossible Dream come true. This entire journey made me realize that you were not only the Wedding Planners for me and my family, but have been and will always be our friend and confidant. Love Always, Robina, Sister of the Bride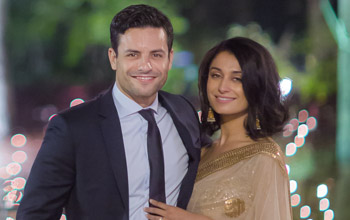 We decided to have a wedding in Bangalore to celebrate Neha & Dan's wedding with our families back home.  Planning this wedding from afar seemed very daunting and needed someone we could trust with the entire event.  When we met Divya & Vithika, we immediately felt comfortable that they could not only manage the event but also could get our understated style.  From start to finish, it was truly a pleasure working with Divya & Vithika.  They worked extra hard to ensure that everything was just perfect, including a sleepless night before the wedding, executing on every last detail.  We cannot express how grateful we are to both of you & your team for making the wedding weekend very memorable for our friends and families.  Thank you.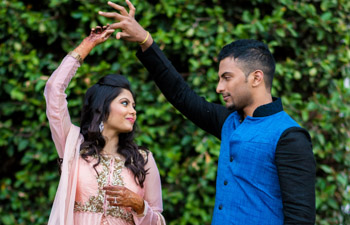 Kaushik and Nupur's Wedding
Weddings are once-in-a-lifetime experiences, where families expect each moment to be perfect. Planning a wedding between North and South Indian families, spanning across 3 days and 3 venues was nothing short of crazy. But DivyaVithika made it a memorable event for us and all our guests. Their involvement helped us to fully enjoy every moment of the celebration without worrying about the arrangements. We had a Bollywood themed Sangeeth, a North-Indian Haldi and Mehendhi and a traditional tamil-Iyer wedding and finally a Western style Cocktail and Dinner. Divya and Vithika spent time with us to understand our needs, brought  ideas to the table and juxtaposed the new and the old, the modern and the traditional, the families and the friends, in a very unique way. Their taste in décor was impeccable and each event with unique themes had beautiful settings. DivyaVithika have an amazing network of vendors for every aspect of a wedding function and they brought together the best in Bangalore for all our events. They started as our wedding planner, but became part of our family for life through this journey. Thank you DivyaVithika for being you and being such a precious part of our lives. You have been awesome, the best that any bride, groom and family could ask for.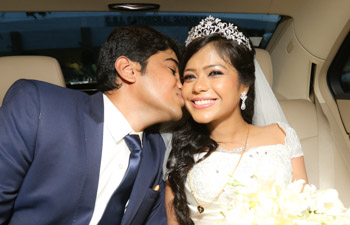 With only a few  months to plan for my wedding and amidst my exams I was frantically looking for the right people to be planners so that the burden would go off our shoulders, especially my parents are really busy and I didn't have a clue as to how we were all going to manage. Choosing Divya and Vithika for my wedding was a blessing in disguise. Mom and I spoke with them over the phone and we were immediately convinced that they were the right people. We were in Madurai and they were in Bangalore… so it was going to be an exciting new experience for the both of us. They had a ton of ideas and they made me feel at ease about my wedding. The thoughts of my wedding were out of my mind and I felt good for the first time in months! In whatever time we could squeeze we quickly planned the wedding. As the days went by and we were closer to the wedding, I understood their meticulous planning and how organised they were. Be it décor, travel, music arrangements for the reception and sangeet, planning with the local vendors, transportation, arrangements for the guests… their professionalism was reflected in everything. I wanted it to be a fairy tale church wedding and the décor and arrangements to be unique. It was all that I expected and I wouldn't replace anything. It was planned perfectly to the tiniest of detail. The feed back to me after the wedding was amazing. They had never seen a wedding like this in Madurai! My parents were so happy and proud, and above all they were absolutely relaxed throughout and they were able to catch up with their friends and all our relatives. After all a wedding is not just about the bride and groom but about everybody around us being happy and excited. Thank you for that Divya and Vithika!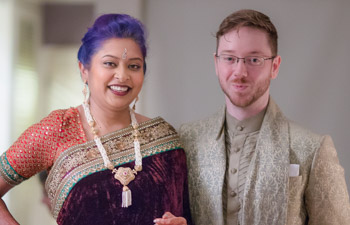 Rob and Meg's Partnership Celebration
Vithika and Divya were a true pleasure to work with and we owe them an enormous amount. They made our event not only incredibly memorable, fun and surprising for our guests, but amazingly they even made it stress-free and fun for us! Ours was quite an unconventional celebration, but Vithika and Divya were open to all possibilities and immediately got a sense of what we were after. From the first meeting with them we knew we were in safe hands. They handled the whole process with flawless tact and judgement, and were attuned to issues like allergies, accessibility, and the particular needs of our consignment of pasty British guests. They had a perfect sense of which issues to talk to us about, and which they should simply resolve. That skill meant that the planning process was infinitely less stressful for us, and made the celebrations themselves somehow both spontaneous and seamless. As creative professionals ourselves, it was a real delight to watch such excellent taste and eye for detail in action. They helped us create the event we wanted, and then made it more than we ever hoped it could be. We'd recommend them unreservedly.
It had to be dream wedding. With thousands of people, line up of events – invitees, celebrities and politicians..! We have been to many such marriages in the circle and exactly knew how chaotic it would turn out to be..! We were also scared about the fact that we will not be able to enjoy the process of our very special day – which can be experienced only once in a life time… On contrary to that – thanks to u both & the entire team of urs, who made us feel so comfortable that I can sit back n recall the line of events with a smile on my face..!! Both our parents attended the wedding like it was their friends daughters.. It was so smooth & not even a inch of stress.. Even the minute details were taken care off without being initiated.. We experienced only one emotion – that was happiness & peace…!! Everyone's glad that I made the right choice of meeting Vithika & Divya for the most important day of our lives..! We want to go through the whole experience once again only if Divya & Vithika are going to plan it for us ..!! Thank u so much for helping us gain an experience which can cherished for life..!!
Darshan Priya and Harsha's Wedding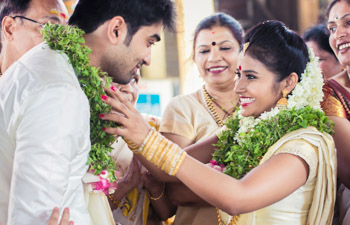 A big thanks to you guys for the whimsical, wonderful & larger than life experiences that you created for our wedding in October 2014. The set ups of each and every occasion that formed our wedding were a dream come true. The timeliness and punctuality of the deliverance of every element incorporated into making our big day come alive deserves a standing ovation. The ideas & thoughts that went behind every effort to make this the best was remarkable. Your patience & dedication is something that we still haven't been able to get over. The best part about Divya & Vithika being on board is that they do not panic even at last minute changes and execute them which puts the family so much at ease. The level of professionalism and patience, along with the dedication to every miniscule detail, only reassured us even more to just leave everything to them and sit back and be married. A big thank you to the two who made our dream wedding come true with all their unending resources and efforts.
The best way to describe Vithika and Divya's services is essential. They were an absolute Godsend for us. We had an intimate yet elaborate multicultural 3-day wedding affair held in Bangalore. Divya and Vithika immediately understood our needs and our taste after just one meeting. They set to work quickly and went above and beyond what we were hoping for. They worked well with us, our vendors, and the venues. They know how to tackle potentially difficult and complicated wedding plans with grace and professionalism. They were able to organize all of our wedding events, book vendors, coordinate decor and help us with special requests such as getting a wedding choreographer for 16 foreigners. We hold them personally responsible for giving us the wedding of our dreams. We can say from experience that there are no better wedding planners in Bangalore than Divya and Vithika.
We wanted to let you know how much we appreciate all that you did in regards to our daughter's wedding. We are so grateful for your expert orchestration of the wedding day. We consider ourselves blessed to have had the privilege of working with someone who translated our vision with such style, grace and professionalism. EVERY detail exceeded our expectations and our quests were thoroughly impressed with your talents. Not only the planning, but your coordination of all that needed to happen on the day of the wedding was much appreciated. We owe you a big "thank you!" for making our daughter's wedding such a beautiful and memorable experience!
I want to thank you both for putting so much time and energy into my brother's wedding. You listened to us and gave us what we wanted and more. Your creative ideas ensured that the occasion was uniquely tailored to our family's taste. It was not just you, but the people you engaged as well. Your reference in regards to the invites was spot on. You followed up when I could not and basically made sure that I spent more time enjoying the event than worrying about the logistics of it. Your attention to detail was brilliant and you followed that up with complete dedication to the task at hand. Not a single element was missed because you two were there to ensure that everything was taken care of. I cannot thank you enough for handling the guest accommodations. The whole process went smoothly and none of our guests were inconvenienced. This aspect was critical for us as we had so many out of town guests, but even having them across multiple locations did not cause us any problems, because you were there handling all the details. It was a delight to have you as an integral part of Raghu and Bindu's wedding event. Thank you for the spectacular job!
We are so grateful for your expert orchestration of our wedding day. We had the privilege of working with someone who translated our vision with such style, grace and professionalism. Thank you so much for all your help, we are really very happy with how it turned out! Everything was beautiful and organized–I didn't worry about a thing! You not only ensured that everything went well by personally looking into even the minute details, but also that we, as a family, enjoy the wedding the most, which I believe is a very important aspect. Every body has appreciated the theme & decorations. We would be more than happy to recommend your services to anyone wanting to plan a wedding.
It was an amazing experience to deal with both of you. In the beginning we were concerned since we were in USA and the wedding was going to be in Bangalore. After we made our initial contact with Divya things started happening and every thing went without a hitch. All our family and friends were thoroughly impressed with the wonderful decorations you did for the mehendi evening, wedding day and the dinner dance around the pool. You did a very professional job and we were very impressed with your eye for the finer details. Thanks once again for helping Kusuma and I arrange a beautiful wedding for our daughter.
The bride's parents.
Vithika and Divya were true professionals, who understood exactly what I wanted….. and arranged just that. They were very creative and original in their planning, and executed it perfectly. I admire their dedication and the attention given to every detail. A special thanks to the choreographer they arranged. The 'moves' were superb and yet simple, and I could pick them up in just two days!! I felt they really made this celebration very memorable. I have no second thoughts in recommending them to anybody.
Pruthvi Scindia (the bride).
Thank you so much for being there for us through the wedding planning process. Both of you are so friendly, professional, hard working & helpful. Thank you for making sure every moment of our five day wedding went so smoothly. It was so reassuring knowing you were there to make sure everything went as we had wished. No one could have done a better job! We were so lucky to have met you. We also appreciate your open-mindedness; you made every effort to learn about our culture & were very interested in our wedding customs.