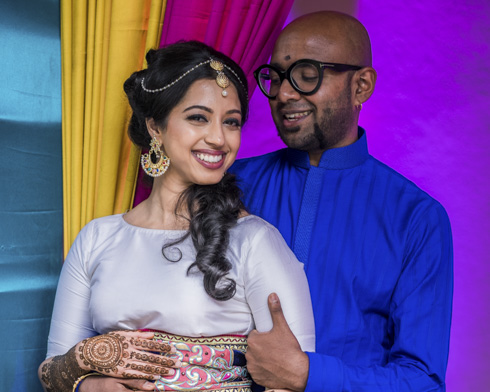 Planning star singer Benny Dayal and his wife Catherine Philip's wedding was definitely one of the highlights of the year. The couple were so amazing and down to earth that they stole our hearts with their warmth and good nature. They were a wedding planner's dream client as they understood the challenges and practicalities involved in planning such a massive affair in one month.
The three day wedding kicked off with a beautiful Moroccan themed Mehendi that also ended up being a rain dance party thanks to the lovely Bangalore monsoons. This was then followed by a glamorous, chic, red, gold and black cocktail evening. Seeing Benny serenade his beautiful bride when they did their first dance was a sight to behold. The poise and grace with which this couple dance together was a visual treat. The wedding day was serene in white and gold. Catherine looked resplendent in her Sabyasachi sari. The priest and the pujari came together for this lovely blend of Hindu and Christian ceremonies.
Thank you so much Benny and Cathy for trusting us with your celebrations. We wish you all the happiness in the world today and forever.
Photographs by Sephi Bergerson of Silk Photos. Video by Doodle Studio, a member of Silk Photos.