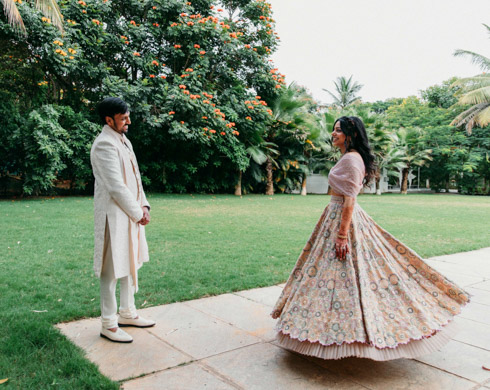 Vibrant and colourful, lavish and elegant, everything about this story book wedding was stunningly epic. There were so many details that made this two day celebration stand out. From a venue nestled amongst lush green spaces and breathtaking décor to stylish outfits and elaborate banquets, we worked closely with the couple to help them celebrate the wedding of their dreams and give their guests an unforgettable experience.
Lit up by fairy lights and countless candles, foot tapping music and dancing, we were able to capture the beauty and romance of a starry night at the Sangeet event. The next day was a whole new experience when guests walked into the wedding venue. A vision of elegance, delicate and dainty, our traditional mandap decked in pink and gold, ivory and green twinkled and glittered in the morning light, drawing many admiring glances from all those present.
We are truly grateful for this wonderful celebration that we planned in the midst of all the confusion and uncertainty that came with Covid times. It lifted our hearts to know that, no matter what, beautiful celebrations will always be an integral parts of our lives. Shradha and Anchit we wish you a lifetime of health and happiness.
Photographs by Aaron Obed