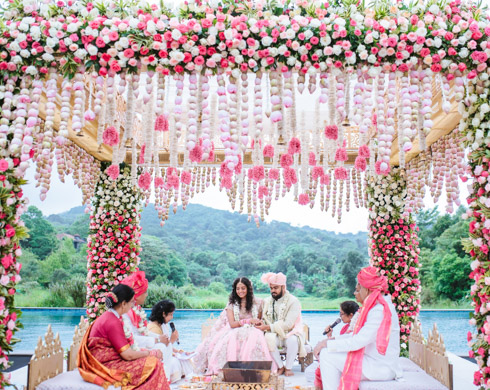 A Close-Knit Affair Amidst The Mist Soaked Mountains Of Coorg.
The misty mountains and refreshing greens of the Taj Madikeri Resort in Coorg, made the perfect backdrop for Sowmya and Chakra's intimate wedding.
With travel restrictions and COVID lockdowns still looming over the country, we knew we had to be prepared for any eventualities. The families flew from Hyderabad to Kannur, and then drove another 2 hours to get to the couple's favourite destination, Coorg. May is usually a very pleasant summer month in Coorg, and therefore we chose the poolside for the wedding ceremony. With panoramic views of the emerald mountains and blue skies it was going to be the most magical setting. However, we were in for a rude shock when the blue skies turned grey and it poured down continuously for two days, interupting our decor preparations and leaving us scrambling for alternative solutions.
Our determined crew worked tirelessly in the freezing rain and cold while our bride wept in her room as she watched the incessant rain that refused to offer any respite. When we finally completed our work and the weather reduced to just a light drizzle, our beautiful bride emerged from her room as a vision of calm and collected beauty in her pink lehenga, with her subtle makeup and breezy natural curls. Despite all odds the result was an enchanting pink Mandap that brightened the day with its lively hues in an otherwise dull day.
The lovely couple exchanged personalised promise bracelets instead of Mangal Sutra. Just as the wedding ceremony finished the heavens opened up again and this time the couple happily danced in the rain, making all the effort and challenges worth it.
Photographs by Beginnings For You