A wedding is the one day that a girl gets to have her own red carpet, paparazzi and the entire spotlight on her. This makes trousseau shopping a daunting and at the same time an exciting experience. One of our very special brides is a popular image consultant based out of Singapore. We asked her to share her experience and advice for Trousseau shopping.
Research before you start your shopping spree
This is a must and a great way to stay focused. Start by book-marking instagram and pinterest bridal accounts that you like and saving photos of outfits that you closely resemble your style.
Sangeet Outfit: I chose a hot pink with gold lehenga as it suits my warm skin tone and went well with my Bollywood Sangeet theme. I needed a pop of color to stand out yet blend into the vibrancy of the event. I went with a choker, chunky earrings and lots of bangles, which incorporated the colors of my outfit. I wanted my look to be fun and colorful.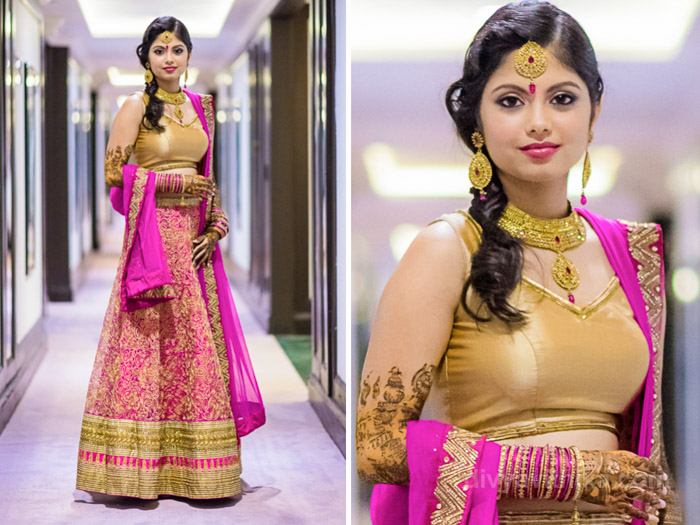 Shortlist your colors
Make a list of your events and then get down to short-listing colors accordingly.
Another important aspect to keep in mind is your skin tone and photography. Not all colors may look good in pictures. I love silver and pastel colors but somehow I look faded in them when photographed. So take pictures while trying outfits to see how well they suit you.
The best colors can be chosen once you identify what suits your skin tone. Check your veins and overall skin color in the sun to find your palette. If you have more blue than green veins chances are you are a cool tone. Colors like silver, sky blue, pastels, maroon, burgundy, grey are your colors.
If your veins appear more green than blue then  you could be a warm tone. Burnt orange, fiery red, mustard, hot pink, olive green, gold, khaki are your colors to go. You could also be neutral which means both set of colors look great on you. Voila! You are the lucky one.
Mehendi : For the Mehendi ceremony, I went with a peachy pastel pink anarkali and kept the look elegant yet fresh. Since pastel is not part of my color palette, I had to be careful about the makeup. I added shimmer to make sure I don't look pale.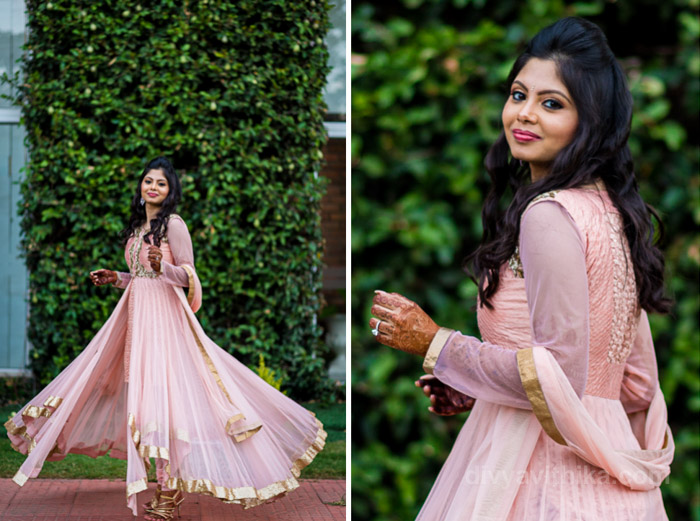 Keep in mind the theme of your events while choosing outfits and their colors
Consider the occasion, venue, the time of the day and number of occasions while you choose your outfits
For day time events stay away from heavy fabrics and dark colors
Embellishments, sequin work, crochet, lace work best with evening events.
For vibrant function like sangeet and mehendi, go for a pop of color, red, yellow, parrot green, hot pink, orange, etc
Wedding: I had to change my sari twice. For my first outfit, I went with a half and half mustard yellow and gold sari. I wore a red polki set to complement my red velvet border.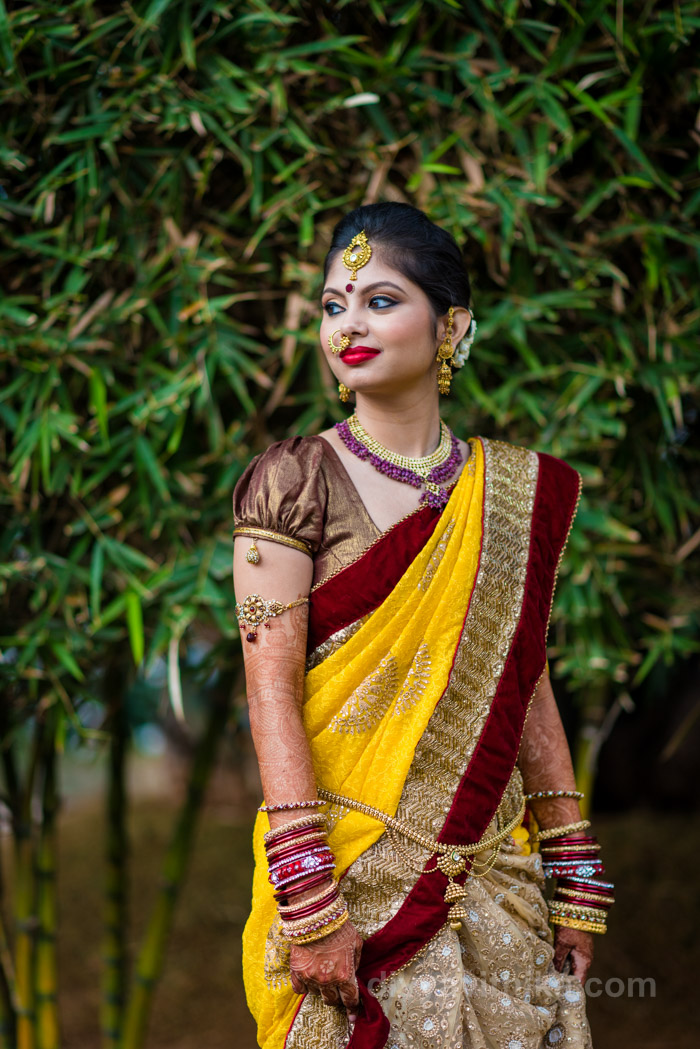 I always wanted my wedding sari to be red. Since I have a warm skin tone, I chose bright red and not maroon. I also changed my necklace to a gold choker so that I can comfortably wear a mangalsutra, which will be longer in length and not obstruct the beauty of the choker.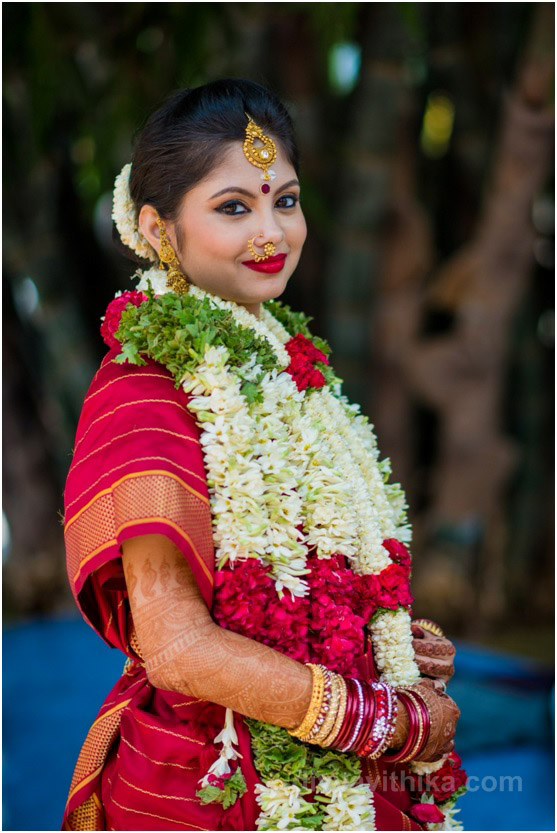 Since it is tough to change accessories between outfits, I kept my bangle, armlet, waistband and maang-tika neutral in gold.
I had to be careful with the nose-ring as most places I could only find big ones. Since my face is small and I was also wearing a maang-tika I had to be conscious of the size of the nose-ring. I chose to go with a slightly smaller clip-on ring without any attachments.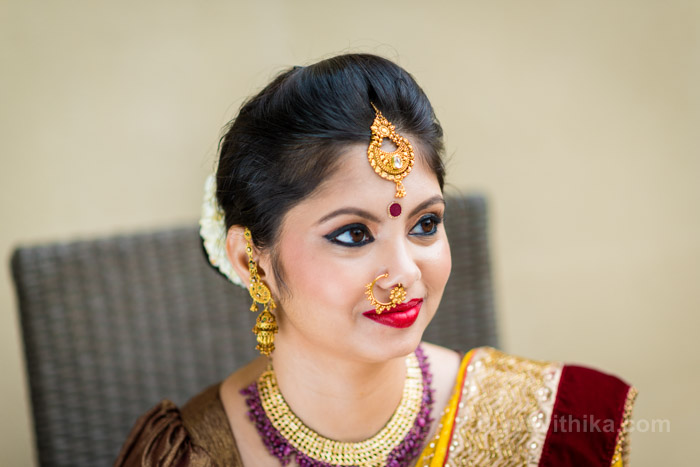 Fabric and fit
Sometimes the simplest outfit can look like a dream if it fits well. Even if you buy an outfit off the rack, make sure you get a tailor to fit it as if it was made for your body.
During your wedding day, all cameras will be on you so you have to be comfortable in your own skin. Identify the body parts you want to show and those you want to hide.
Always try outfits with heels 
The look can change according to the shoes you wear. So try outfits with the height of the heels you might be potentially wearing on your event days. Also bring those heels along when you are getting your outfits re-sized and tailored as even a half-inch can make a difference.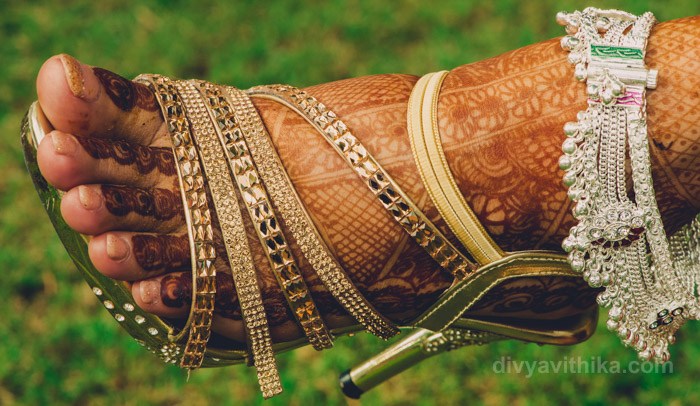 Cocktail:
Our cocktail event was quite formal so I chose a dull gold lehenga with stone embellishments. Since the lehenga was heavy and full of work, I kept the accessory really simple with just a pair of chunky earrings so that the look is not too overwhelming and blends well with the elegance of the event.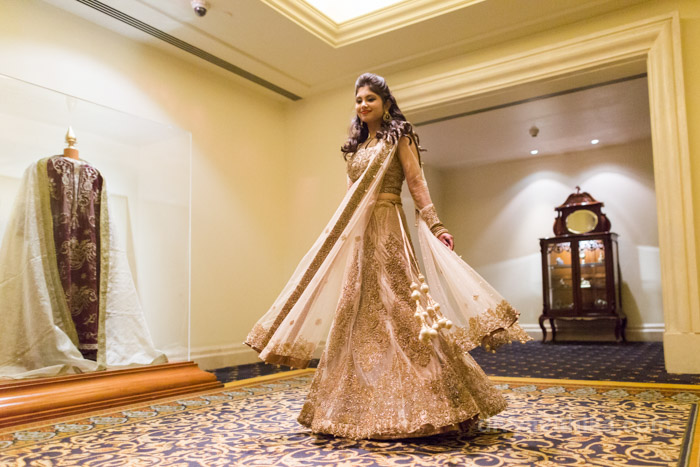 Accessories
The biggest mistake a lot of brides do is to buy accessories separately from their outfit. Make sure you take your outfit along or at least a clear picture of it when buying bangles and other jewelry.
The other thing to keep in mind is that your jewelry and your outfit need not always match. You can add in contrasts. If you wearing a dull gold lehenga, go for an emerald green or bronze earring. With pink you can opt for sapphire. Add a bit of variation and play around to make your outfit fun.
When buying maang-tikaas and nose-rings, make sure to keep your face size in mind. Don't go for the super huge ones if your face is small.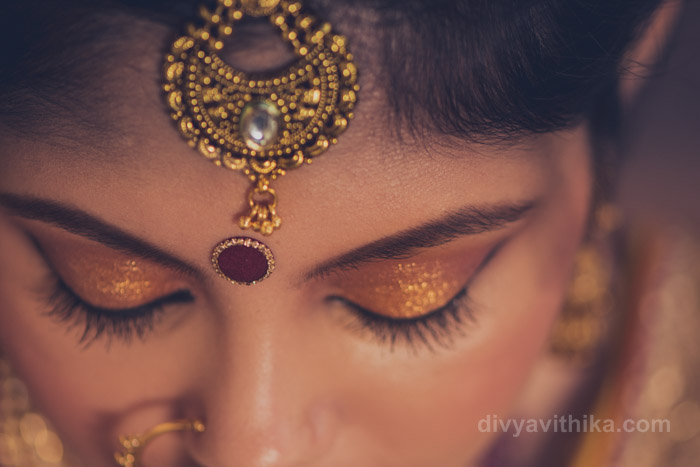 ~ Nupur Singh, Image Consultant, Stylist and founder of fashion blog The Crispy Corner www.thecrispycorner.com , Instagram: @thecrispycorner