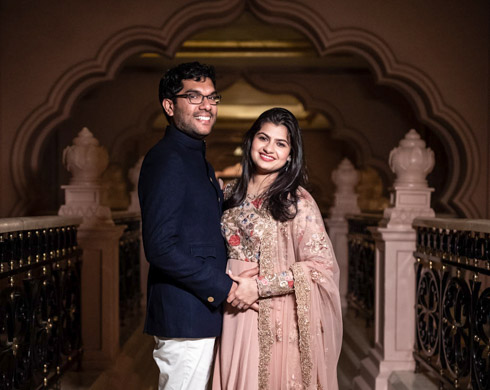 Guests were greeted with brilliant blue skies, gently swaying palm trees and a dreamy ocean when Shreya and Parthiv chose the picturesque beach town of Kovalam to host their memorable wedding after scouting many venues and post numerous discussions with us. With the couple living in USA and guests flying in from the US, UK, Southeast Asia and parts of India we worked with them for a year to ensure that every little detail was meticulously planned and executed.
The festivities kicked off with a bright yellow Haldi and Mehendi ceremony complimented by blue skies and was followed by a barefoot cocktail party in the evening wherein the guests enjoyed sipping their favorite cocktails intermingled with the salt tinged air and the magical ambience filled with the sounds of the surf, lit by fairy lights, and a gentle wind making it a perfect evening. The next morning guests woke up to a traditional Saadya that was both a gastronomical and a visual delight. This was followed by a dreamy beach wedding just as the stunning sunset formed a perfect backdrop with the deep saffron hues of the Indian summer sun giving way to a rose gold sunset. The festivities ended on a high note with a reception night filled with heartfelt speeches, drinking and dancing.
Shreya our gorgeous bride was methodical in her approach, clear about what she wanted and an absolute stickler for detailing. Yet she was open to ideas and experimenting making the planning process both creative and fun! At Divya Vithika Wedding Planners we spoke in length with Parthiv and Shreya about the most suitable dates and then gave them a host of choices for their venues that would work best for them based upon the time of the year, number of guests, budgets, etc. Once these two crucial factors were decided we got into the details of invitations, wedding website, mood boards and décor for all the various events, vendor selection and management, collecting guest details and RSVP's among a host of other services.
Shreya and Parthiv, thank you so much for trusting us with your celebrations. We wish you both a lifetime of love, laughter and happiness!
Photographs by Ankit Singh